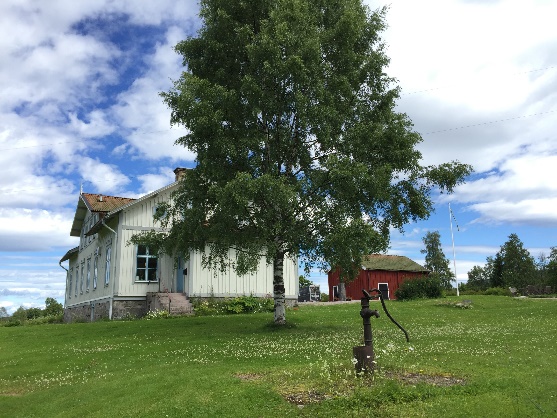 Council Of Shambhala Gathering, Safsen, Sweden June 7, 2018 – June 10, 2018
June 7, 2018 - 7:00 pm

to

June 10, 2018 - 10:00 am

Council of Shambhala Gathering
Thursday 7th of June to Sunday 10th of June 2018
Säfsen Sweden
With psychic trance channel, healer and spiritual guide
Gregory Ashid Possman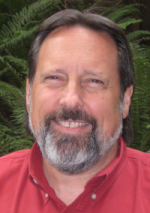 The Council of Shambhala is a Council of Twelve light beings working for peaceful cohabitation and reunion of all beings and species in the universe. Gregory is an emissary from The Twelfth Seat of the Council of Shambhala and channels messages from some of the twelve members of the Council. You are now invited to a Council of Shambhala gathering in beautiful Säfsen, Sweden, located in the historical Finmark nature, Dalerna, in the central part of Sweden.
Channeled 2. March 2018 by Gregory Possman
We are the 12th seat of the Council of Shambala. We address you on the process of cleansing your planet. We would ask that as you draw nearer to the month of June you give yourselves permission to gather together in the place called Sweden and draw out of the Earth any and all negativity possible. We ask that you bring together those from the future in order to concentrate your energies and to cleanse and clear that which no longer serves. We ask that you look deep inside and determine if this is your purpose. If so give yourselves permission to gather in one place focusing your entire energy on cleansing the Earth in order to ensure its future. This is our request we are the 12th seat of the Council of Shambala, we bring you greetings and salutations in this the year 2018.
Channeled invitation by Gregory
Safsen Retreat 7 to 10 of June 2018
by the Ancient of Days
In the Earth, there are deposits of mineral that have come from other places. As various meteorites and asteroids struck the Earth there were implants or energies in those asteroids and those meteorites and some of those energies are denser, lower frequency vibrations. It is these aspects of low-frequency that we are asking you to remove in Sweden. You will see them in different ways. You will get different images of them and yet they are all open to removal, this is the process that you will be working with in your retreat in June, 2018…
The people who will be coming to remove them may have been the same people who placed them there. So give yourselves permission to release, to forgive and to let go of whatever energy might have been involved in your past or previous lives.
So each and every being who feels drawn to attend will be a part of that removal process. We are talking about anyone who comes to that place and does that work. You have already begun the process whether you are aware of it or not. This process is in the unconscious. Some would say you have laid the groundwork, and some of that work was done in the past. When you dealt with the dark sculls that you saw, that was the beginning of the process. Now it is time for even greater amounts of this energy to be removed.
There are a number of beings who have had previous lives in that place, previous experiences if you will. It is important to understand that many acts of cruelty, many acts of murder, many events that involved torture, sexual, physical and mental abuse, as well as acts of overpowering of others, and various other travesties of human experience can be released and forgiven. On a collective level, it is a matter of removing this energy from the Earth on a physical personal level, there will be experiences that come to mind for these various individuals and each of you will help the other to release them.
Some of them will be quite emotional. Some of them will be very depressing, so there will be a kind of decompression that takes place out of each individual's body. On a global level it is one kind of release and on a personal level it is another kind of release. And as you enter into the lake you will have an opportunity for a sort of baptism, an opportunity to release these various aspects of energy that will be overcoming you, No matter what the source, no matter where these particular energies came from. They are all a part of this process, so any Atlantean energy that may have been placed there at the time may be released as well.
On your planet, you use the word curse. It is not a word that we are particularly fond of, for it implies that it cannot be removed but the truth of the matter is, it can be removed if the right people are there to remove it. The right people will be there when the time comes.
It is a programming, a condemnation. A kind of incarceration. In other words, it is like putting all of the energy in prison, encompassing it in darkness so that it cannot be used for other purposes. That is the best way to put it and the freeing of that energy means that it will of course be available for other purposes. It is that area' right to discern and it creates the opportunity for information to be gathered and to be used for the healing of the earth.
There are those who predict that the earth will come into another Ice Age in approximately 50 to 80 years. Your work is to avoid that. There is no reason another Ice Age must be created. There is a possibility but there is no reason for it to be created and if the energies that are dark within the earth are released, these predictions of an Ice Age can be completely averted and avoided. The planet does not need another Ice Age. It has been down that path before. However, if humanity does not offer enough light and enough love to the planet, then it may go back into that. This would be a kind of suspended animation where the earth is frozen and life is not allowed to create itself anew.  Avert this crisis by connecting your planetary service, please.  Work in one place, Sweden. It can indeed take place that there would be a process where the Low level frequencies can be released. It is about allowing the base of this process to take place in the right place at the right time. However, once that is done, then indeed these energies can be released as well and they can be released simultaneously. It is not something that must happen in a series of events, although the first event in the place called Sweden is important. After that they can be released simultaneously.
Atlantean energy exists in the USA. There is also Atlantean energy in the place called Santorini in Greece and in the Bahamas off of the Florida coast. There are approximately six deposits of the Atlantean synergy on the Earth and you have already accounted for five of them, including the one in Sweden. There would be one more in the area of China.
It is misunderstood how widespread the energies of Atlantis were because it is underestimated as to the power of the implosion that took place. If you imagined five or six nuclear bombs. That is just an approximation of how much power took place in the implosion of Atlantis. In Sweden the pond where Sananda blessed some of your attendees is a special source of energy and it would include the double dodecahedron within its energy field or the diamond heart as you call it. In the past pilgrims came to that place for healing and spiritual growth.
The work that will be done in September will facilitate the process that takes place in 2018.
……………………………….
Where do we meet
The center of the Shambhala gathering will be held at the old Priest-house in Säfsen. The fully remodeled Priest-house from 1872, is surrounded by nature on all sides, and is in the most beautiful location at the foot of the mountain range that originates in the high mountains of Norway. We will enjoy our breakfasts and dinners together as well as using it as our gathering place for our workshop. This will be incredibly convenient and comfortable!
Homemade vegetarian food, originating from seasonal fruit and vegetables, will be served. Inform us if you want fish or chicken, then we will add this to the vegetarian menu. If you are vegan, or have any other special needs, please let us know. We will do our best to accommodate your request.
The breakfast and dinner will be served at the priest-house. At breakfast, you will have the opportunity to create your own lunch sandwich which we will bring into nature, weather permitting.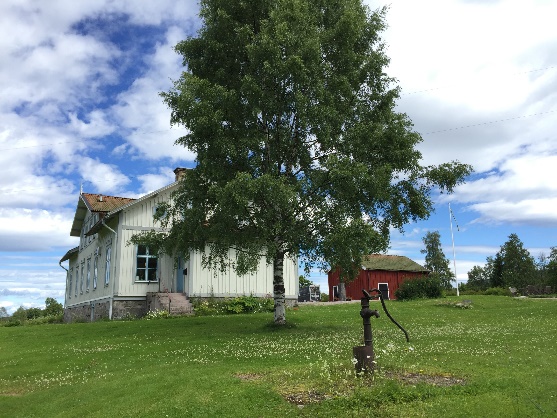 The Priest-house has 6 double rooms available. All rooms have their own bath and toilet. Only two of these double rooms can be arranged as a single room, for the single supplement (extra cost), see below.
When the 6 rooms in the priest-house are reserved/sold, we will start booking 2-bedroom wooden cabins. The cabins include a nice bathroom, and living-room/ kitchen area. These cabins will be sold as single-rooms. (same price as a shared double room at the priest-house) The cabins are located very near The Priest House, (our gathering place).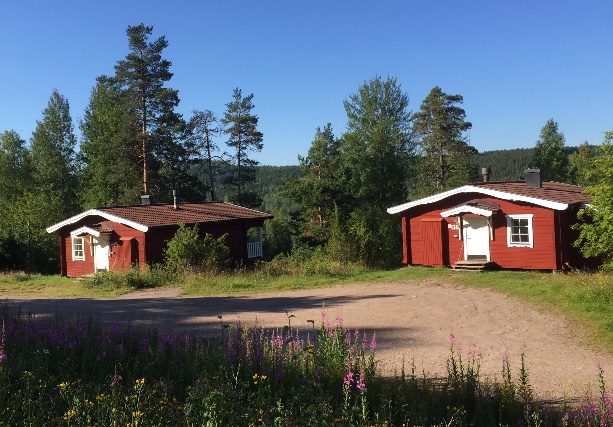 We have just been informed that Säfsen is one of the places on our Planet Earth that was a "connection-point" for Atlantis. This "connection-point" covers a diameter of approximately 200 Kilometers. The core-point was Österhøjden, a mountain ridge only 4 km from the Priest-house. One kilometer away there is a beautiful small pond at a most peaceful place.  Metatron informs that this pond was first initiated as a Nature Temple in the time of Atlantis. It was visited as part of the pilgrim walk, at that time.
In 2011 and 2012 we had a Retreat with Gregory in Säfsen, where we started to work with the area, but at that time we did not know the importance of this area.
Gregory then channeled Sananda by the Pond. And Sananda baptized some of the attendees with holy water from the Pond.
You are now invited to this special place, and can be part of the work to heal and cleanse the area for the return of the energy from the Atlantean time in the new form of Unity. We are informed, when the work in June 2018 has taken place, information can start to fold about the saving of our Planet Earth.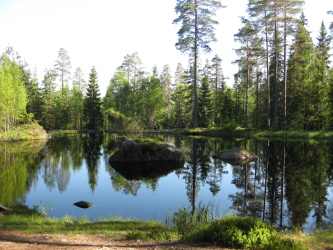 When: The retreat begins Thursday 7th of June with dinner at 19.00 hours and ends Sunday 10th  of June at 11.00 hours.
Check in begins Thursday from 15.00. At 16.00 coffee, tea and cake will be served.
Location walk: Thursday at 17.00 Henrik will offer a guided walk in the area surrounding the Priest-house. If you wish to join, you will see and feel the energy of the area, before our retreat begins.
Prices:  Payment below includes lodging for three nights and food as described. Ice water/coffee/tea are included. Please bring your own towels and bed clothes or you can rent them for 155 SEK extra.
Extra drinks (soda, wine or beer) you are welcome to bring yourself. We have room for 25 participants. We are responsible for cleaning the Priest House and the cabins before we leave.
Personal investment per person:
Shared double room at priest-house:      S.kr 6.500          D.kr 5.200
Single room in a cabin (shared, 2 persons)
Only available, when all rooms are
sold in the priest-house            S.kr 6.500          D.kr 5.200
Single room in the priest-house             S.kr 7.750          D.kr 6.200
Only 3 rooms can be sold as single-rooms.
Option: If you want to arrive a day early, and/or leave a day later, please let us know. We can help you arrange lodging.
The Menu includes:
Thursday:  Afternoon coffee/tea, cake – Evening dinner buffet
Friday:     Breakfast -buffet – Lunch sandwich – Evening – dinner, buffet.
Saturday: Breakfast -buffet – Lunch sandwich – Evening – dinner, buffet, Desert
Sunday:   Breakfast – buffet – sandwich to go
(during intermissions – Coffee/tea, nuts and sweets)
Deadlines:
Enrollment and payment of deposit S.kr 1.500.- D.kr 1.200. When we receive your deposit, your space will be reserved. Balance is due, no later than 1st of April 2018.
Cancellation:
Cancelation before December 31st, 2017: your entire deposit will be refunded. Cancelation after 1st of January 2018: your entire deposit will be lost. (No refund).
Enrollment and information to:
Karin and Henrik Grønvall Tittussen:  karin@satnam.dk
Please be aware you can choose to pay in Swedish or Danish Kroner. The currency you pay must be the same for the whole amount.
Payment (Sweden Bank) Pay in S.kr:   Handelsebanken Sweden
BIC:  HANDSESS IBAN  SE64 6000 0000 0004 7552 8891
Payment (Danish Bank) Pay in D.kr: AL-Bank 5387 0380335
Swift: ALBADKKK             IBAN:DK4953870000380335.
Until we meet:
Gregory will be guided by the Council as to how the Retreat will proceed.
Bring clothing for both indoor and outdoor activities in these beautiful natural surroundings. It is important to note the weather and temperature can change very quickly due to the mountains. We invite you to this unique opportunity. We would love you to be part of this fantastic work with the Council of Shambhala.
Attendees will be invited from Scandinavian, Europe, North America and the world. It will be a Retreat of channeling, meditation, peace and Unity in a serene setting. We've arranged a morning meditation both Friday and Saturday before breakfast.
We hope to see you in Säfsen, Sweden  7-10 of June 2018.
Love from Gregory, Karin and Henrik
SatNam