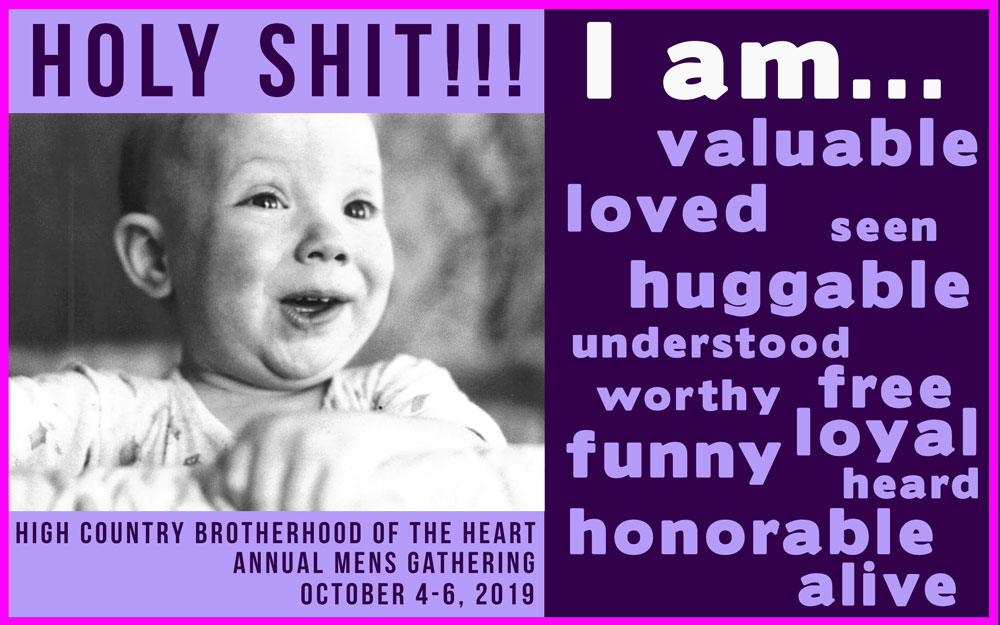 High Country Brotherhood of the Heart 8th Annual Gathering
October 4, 2019 - 4:00 pm

to

October 6, 2019 - 12:00 pm

|

$225.00 – $300.00
8th Annual Men's Gathering
Hosted by High Country Brotherhood of the Heart
Details
2019 High Country Brotherhood of the Heart Men's Gathering
October 4th – 6th, 2019.
This year's Fall Gathering with your High Country Brothers of the Heart has been planned and we invite you to reserve the dates and your space! We meet again at the Blowing Rock Conference Center for Fellowship, Growth, Self-appreciation and Camaraderie with our Brothers from another Mother..
This year we will be exploring and expanding our self-esteem, self-worth and self-love. Sound dangerous? Sound risky? Holy shit…You better believe it. We were shaking in our boots when we designed this experience and some of us wanted to retreat to a safer subject but we'll deliver a meaningful & powerful weekend where we can all grow together. The only thing we're missing is you. Our goal this year is 26 powerful men hungry for a better life and a more self-loving journey on this planet. As my daughter said to me recently "Dad, open your mind and open your wallet". You deserve it. Collectively we will explore our failures and our successes in this life with the valuable feedback from our compassionate brothers joining us to determine our future aspirations and desires. Intrigued? We are and we want your feedback because it's valuable to us. We'll serve as each other's mentor, remaining open to the advice and suggestion of our Brother's wisdom so we can avoid re-inventing the wheel, simultaneously re-inventing our enthusiasm, motivation and joy. Join us to share your personal desires and dreams in our circle of safety and brotherhood. This will be a weekend of deep connection, healing and designing our futures. All the information about the Gathering you might need follows and signing up is super easy. Just email one of the contacts below for a registration form. Fill it out and send along with your check to the address below.
Dates:
Friday, October 4th at 6pm – Sunday, October 6th at noon
Venue:
Blowing Rock Conference Center
1818 Goforth Rd, Blowing Rock, North Carolina 28605
(Google Maps works great for directions)
Cost: $225.00 for Shared room. Or $300 for Private Room.
A limited number of Scholarships are available if finance is an issue.
All meals with the exception of Friday's dinner are provided by
the Conference Center and served in the cafeteria. (Friday Night
dinner is potluck ,so bring a tasty morsel / dish to share).
Conference Center provides: blankets, sheets, pillows,
towels and facecloths. Bring a sleeping bag if you prefer
your own bedding.
For more info call or email any of the following:
Alistair Burke: alistair.burke@gmail.com / 828-264-5630
or
Gregory Possman: gregory821@gregorypossman.com
/ 828-773-4228
Send Registration form plus Check to:
Gregory Possman
8765 NC Hwy. 194 N.
Todd, NC 28684